Story Hour Brings Moms and Kids Together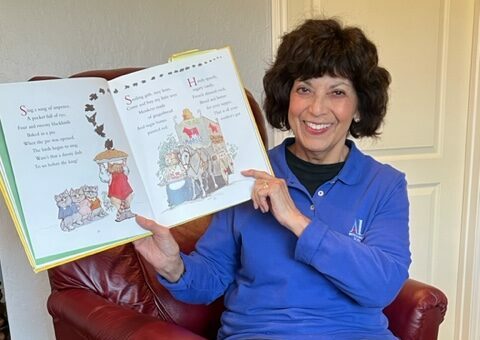 On the first and third Wednesday of every month, moms and kids gather together in one of the Chris Wilder Community Rooms at Parisi House for Story Hour, led by volunteers from the Assistance League of San Jose. It starts out with singing – "Wheels on the Bus" seems to be a fan favorite.
"We always make sure we sing that one," says Assistance League member Gloria Cutshall, co-librarian at Parisi House.
After belting out a few songs, moms and their kids gather around the volunteer reader to listen to a story or two, and maybe play a little Ring Around the Rosie. All of the Assistance League volunteers are bilingual and read aloud in both English and Spanish.
"We try to make Story Hour as interactive as possible, and everyone seems to enjoy that," Gloria says. "We read books with repetitive phrases so that moms and kids can repeat them together. Sometimes the little ones are restless and get up, so the reader just pulls them back in by making them part of the story. That way nobody has to scold them, and the kids want to stay involved. Our readers are very animated, which is fun for the kids."
In addition to being fun, Story Hour provides important bonding time for mothers and their children. It also sets the stage for moms to continue reading to their kids after they leave Parisi House. Reading to children from an early age promotes cognitive development and improves language skills.
"Some of the moms have told me they really appreciate the stories being read in Spanish," Gloria adds. "Even moms who don't speak Spanish have thanked me. It's great for all the kids to hear both languages."
She is also focused on another language for babies and toddlers – sign language. One of the mothers had asked about it, so Gloria researched the subject and learned some basic signs she could teach the moms and their young children. Now at the end of every Story Hour, Gloria reviews the different signs that moms and their little ones can use to communicate with each other.
"Babies can start signing anywhere from six to eight months old," she says. "They learn the signs for drink, food, mommy – the basic necessities. We have ordered books on sign language and all of the mothers will be receiving one."
Sign language gives young children the ability to express themselves and make their needs known, and it builds communication skills. It can also reduce toddler meltdowns because it alleviates some of the frustration young children feel when they can't communicate their needs.
"I think sign language also helps moms and kids bond because it gives them a way to communicate," Gloria adds. "That's a good thing."